SOY GLAZED SALMON WITH SPICY SALSA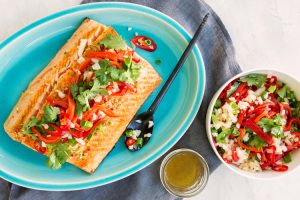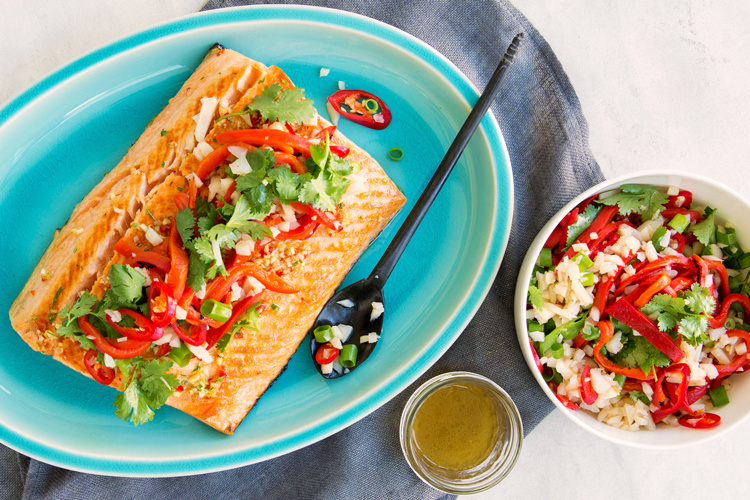 Tools required:
Hot plate liner | Fish spatula 

INGREDIENTS
SALMON & GLAZE
1kg salmon fillets
¼ cup orange juice
¼ cup maple syrup
2 cloves garlic, finely grated
1 tbsp. grated ginger
2 lime leaves, finely chopped
1 lemon grass, the white part only finely chopped
1 small chilli finely diced
SPICY CAPSICUM SALSA
2 red capsicums
2 shallots, cut into ½ cm slices
1 large chilli, finely sliced
½ cup water chestnuts, roughly chopped
¼ cup coriander leaves
1 tbsp. fish sauce
1 tbsp. lime juice
1 tsp. sugar
¼ tsp. sesame oil
METHOD
Preheat your BBQ on a high heat; roast the capsicum for 15-20 mins, making sure to turn every 5 minutes until skin blackens. Remove from heat and place in a bowl, cover with a plastic bag to sweat off the skin. Once cool, peel off the charred skin.
Finely slice the peeled capsicum and mix in a bowl with shallots, chilli, water chestnuts, coriander leaves.
To dress the salsa, use a small bowl to stir the fish sauce, lime juice, sugar and sesame oil. Then toss through the salsa.
For the salmon glaze, combine all ingredients and mix well. Brush the top fleshy side of your salmon with the soy glaze.
Trim a hot plate liner to your BBQ hot plate and turn your BBQ on medium to high heat. On the hot plate, cook your salmon flesh side down, for 4 minutes. Then baste the top side (skin) with the glaze and flip to cook for a further 4-6 mins, or to your liking.
To serve, lightly drizzle the salmon with the soy glaze and enjoy with a generous spoonful of spicy capsicum salsa on top.