STUFFED SNAPPER WITH ORANGE SAUCE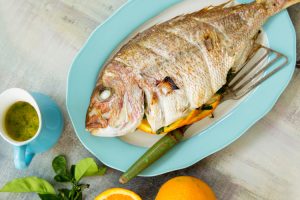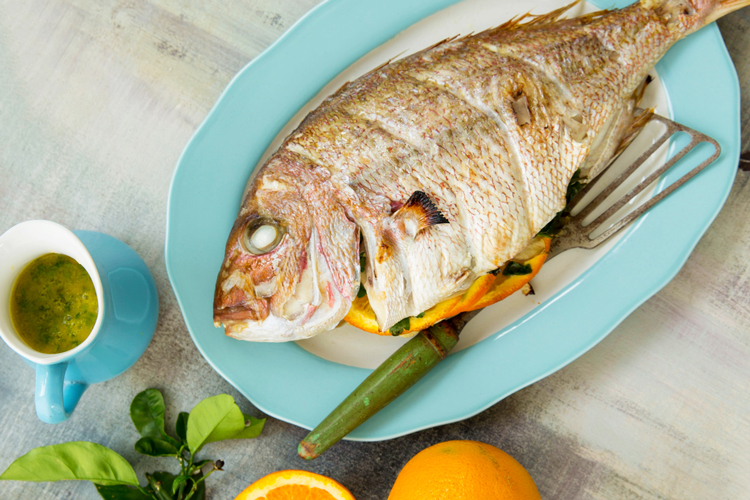 Tools required:
Fish griller | BBQ gloves

INGREDIENTS
SNAPPER
2 x 900g snappers, scales removed and cleaned
1 orange, sliced into rounds with skin on
1 fennel, thinly sliced
1 handful parsley, stalks on
4 cm knob of ginger, thinly sliced
Salt, to taste
Olive oil, extra
SAUCE
1 tbsp. butter
1 tbsp. ginger, grated
1 garlic clove, grated
1 tsp. tarragon leaves, roughly chopped
1 cup orange juice
1 orange zest
1 tbsp. butter, extra
1 tbsp. parsley leaves, chopped
METHOD
Preheat your BBQ on high heat and close the hood.
Prepare the fish on a clean surface. First season the fish by rubbing salt on the inside cavity. Then stuff with a layer of orange, fennel, parsley and ginger.
Lightly grease the wire fish griller with some olive oil. Carefully lay the stuffed fish inside the fish griller and lock into place. Using heat resistant BBQ gloves transfer the fish griller to the hot BBQ and cook for 8-9 minutes each side with the hood down, until just cooked through. When ready, remove from heat.
For the sauce, melt butter in a small saucepan over a low, gentle heat. Add the ginger and garlic, sauté for 1 minute. Then add the tarragon, orange juice and zest and continue simmering for 4 to 5 minutes and remove from heat. To finish, stir through the parsley and remaining butter until melted. When ready to serve, spoon sauce over the fish.